Featured
Ibtm world and Reed Exhibitions signed an extension to its partnership with Barcelona and Fira de Barcelona in 2015 to keep ibtm world in...
DON'T MISS
Fair Trade Tourism (FTT) the Leeds Metropolitan University, UK, have been working together to produce a new toolkit for tourism businesses - 'Keep It...
MICE LIFESTYLE NEWS
Ibtm world and Reed Exhibitions signed an extension to its partnership with Barcelona and Fira de Barcelona in 2015 to keep ibtm world in...
IACC today released its Trends in Nutrition & Delegate Wellbeing survey report. The survey asked venue respondents a series of questions regarding health choices...
EVENT TECH AND GADGETS
Two of London's luxury hotels will soon change hands for £192 million, they are to be sold to a Middle East investor.The two upmarket,...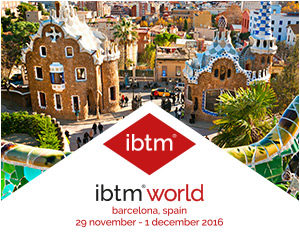 IBTM World (Formerly EIBTM) is the place to grow your business in the meetings, events, conference, incentives and business travel industry. Through highly-targeted introductions, IBTM World brings you face-to-face with the right people in the right organisations, to build relations, develop your business and expand your knowledge. Enter a world of business opportunities.
LATEST REVIEWS
The dispute between China and Japan is still causing turmoil in the tourism industry as Japan Airlines announces it will be cutting flights to...
MEETINGS PERFORMANCE
The journey to and from this year's ibtm world (www.ibtmworld.com), in Barcelona is going to be as fast as the event's high-speed internet access...
Christian Mutschlechner, Director of the Vienna Convention Bureau, has been recognised for his outstanding contribution to the meetings and events industry during the Meetings...
Dubai's airport and hotels welcomed an increase in visitor numbers following a slowdown during the height of summer and Ramadan. The...
ibtm world, formerly EIBTM (www.ibtmworld.com) has confirmed that 47% of Hosted Buyers qualified to date will be attending the show for the first time. ...
Derek Hanekom, Minister of Tourism for South Africa visited IBTM World for the first time in his career and outlined how South Africa intended...
AIR TRAVEL
CORRECTION !! According to a news report from the Australian News Service ABC, (from July 17th), about 100 of the 298 people killed on...
Star Alliance, has recently re-launched new MICE products under the name of "Conventions Plus" and are focused on delegates and organisers of meetings and...
The Airports Company of South Africa's Mr Deon Cloete, General Manager of Cape Town International Airport, spoke to MICExchange at INDABA 2014, where he...
American Airlines and US Airways apparently closer to a clearing of the way to merge, creating the world's largest airline.  A trial pitting the...
Virgin Australia CEO John Borghetti has been transforming Virgin Australia and says he has a complete strategy that works over the long term.  Borghetti...
HOLIDAY RECIPES
Xing Event has take a new step by integrating the XING Events registration system with the Eventbase Technology by demonstrating the first wearable XING...